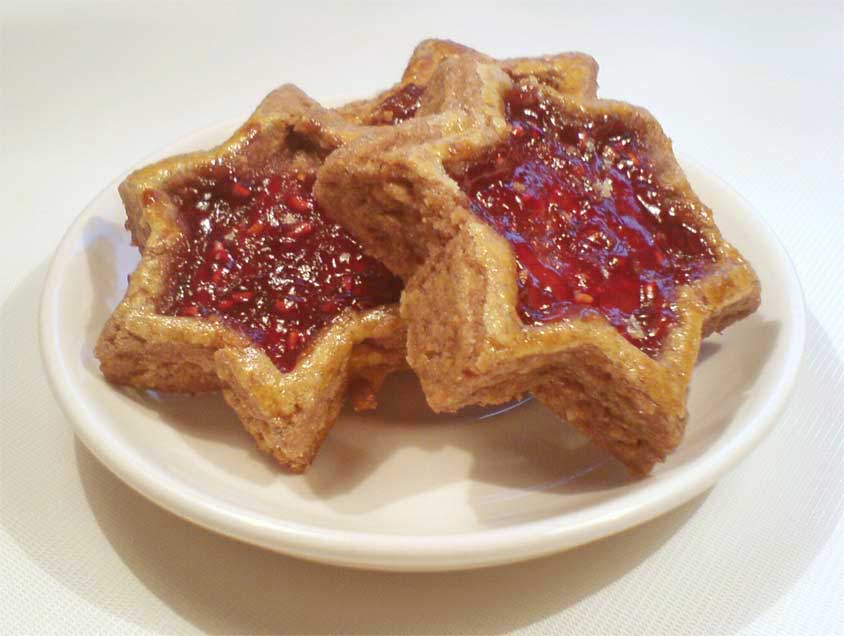 Linzer Cookie Recipe
In the Black forest, Linzer Tart belongs to Christmas like the Christmas tree. This recipe is based on the dough for Linzer Tart, but we bake Linzer Cookies instead of Linzer Tart with the dough. Because the raspberry jam is baked along with the Linzer Cookies, together with the hazelnuts you get a wonderful roasted taste!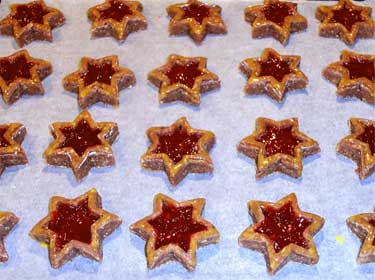 Please let the Linzer Cookies rest for some time before you enjoy the Linzer Cookies, because, same as with Linzer Tart, the Linzer Cookies become soft and develop their wonderful flavor after some time.

By the way: The Linzer Cookies taste delicious in every season.
Two asteroid cookie cutters in different sizes are needed for the Linzer Cookies. Alternatively, a round cookie cutter or a small glass can also be used instead of the small asteroid cutter.
And here is the recipe for the Linzer Cookies:
250 gram / 8 ounces ground hazelnuts
250 gram / 8 ounces wheat flour
250 gram / 8 ounces sugar
1 tablespoon of cocoa powder
1 teaspoon of cinnamon
1 teaspoon of vanilla-sugar
1 pinch of ground clove

Mix these ingredients well and then knead by hand a dough by adding the following ingredients:
250 gram / 8 ounces butter
1 liqueur-glass of kirsch liquer if available
1 egg
The ingredients should be cold and the dough should be knead as short as possible. Then put the Linzer Tart dough in the fridge for about one hour.
Further ingredients:
1 Egg white
1 Egg yolk
1 glass of raspberry-jam

Roll out about 7mm / 2 inch/8 thick dough-disks. Do not use more flour than necessary.
Take the bigger cookie cutter and cut out cookies. Cut out stars with the smaller cutter in the middle of one half of the cookies, and remove this small star.
Cover the stars without the holes with egg white (used as glue) and put the other stars with the holes on top of the others. Press the Linzer Cookies gently together.
Cover the Linzer Cookie edges with egg yolk. Fill the deepenings of the Linzer Cookies with raspberry jam.
Bake the Linzer Cookies in a preheated oven at 180°C / 360°F for approximately 20 minutes.
* * *
Especially ambitioned cookie bakers can assemble the Linzer Cookies in the following way. In this way the Linzer Cookies will look even nicer.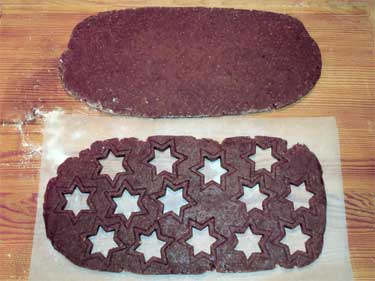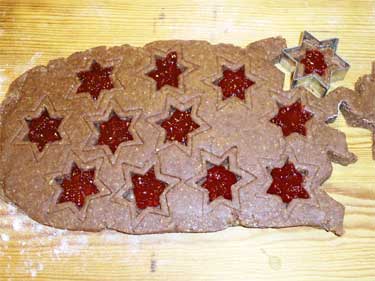 Roll out two approximately equally big dough-disks about 7mm / 2 inch/8 thick.
Mark on one of these dough-disks cookies with the bigger cookie cutter (only marking, not cutting). Cut out cookies in the middle of the marked stars with the smaller cookie cutter. Remove this small stars.
Cover the other dough disk with egg white. Put the disk with the cut out stars on top of the other disk. Fill the deepenings with rasperry jam. Now take the bigger cookie cutter to cut out cookies with the smaller stars in the middle.
Continue as described above.
Enjoy the Linzer Cookies!
Print the Linzer Cookie recipe as PDF