Welcome at Guesthouse Reger in
Lenzkirch / Schwarzwald
Appartements, holidayflats and B&B rooms
in the Black Forest Germany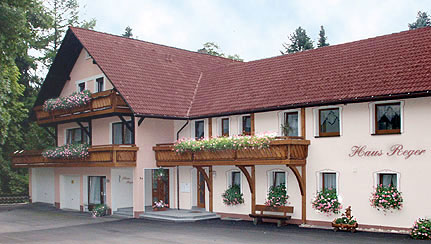 We are pleased that you are interested in our Black Forest
guesthouse and would love to see you soon.
Lenzkirch is a climatic health spa in the nature-park South Black Forest near lake Titisee, the village Hinterzarten and the Feldberg mountain.
Our well furnished Guesthouse is central and quiet situated. The rooms and self catering apartments (bedrooms and living rooms with kitchenettes) all have shower and wc, TV, most of them have south-side-balconies and some are on the ground floor. The rooms and apartments can be reserved with or without breakfast. Ample parking place is available.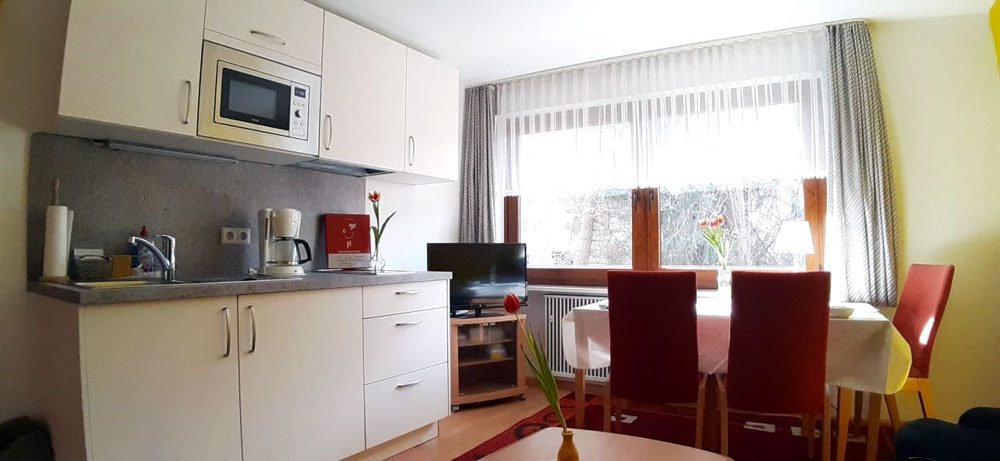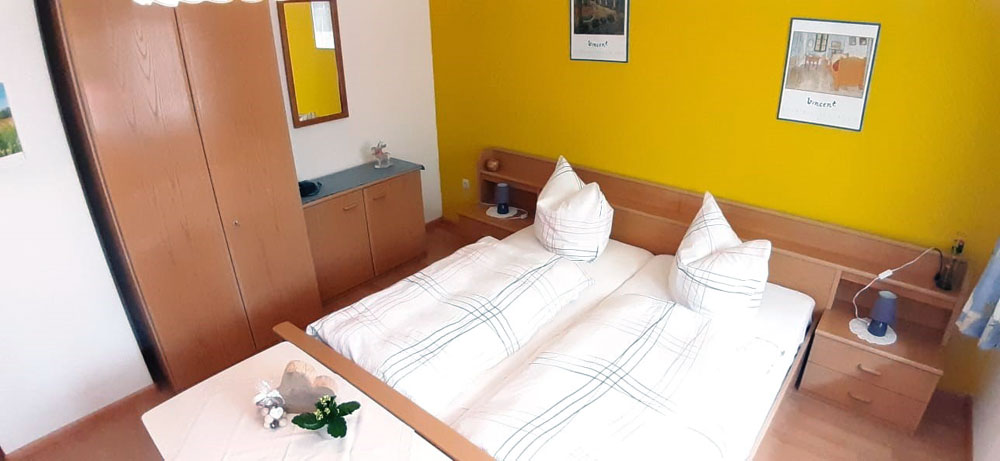 ---
Location:
Our guesthouse is in Lenzkirch in south west Germany, near Switzerland and France, in the heart of the Black Forest. It is situated between Freiburg and Donaueschingen, 10km south of Titisee-Neustadt.
Lake Titisee, the mountain Feldberg, the village of Hinterzarten and the gorge Wutachschlucht are all just about 15 km away from us.
Lenzkirch is a climatic health spa with 2500 inhabitants and is situated in 910-1100m (3000-3700ft) height.
The distances to the following airports are: Zurich, Switzerland 100 km, Stuttgart 150 km, Karlsruhe/Baden-Baden (Ryanair) 150km and Frankfurt 300 km.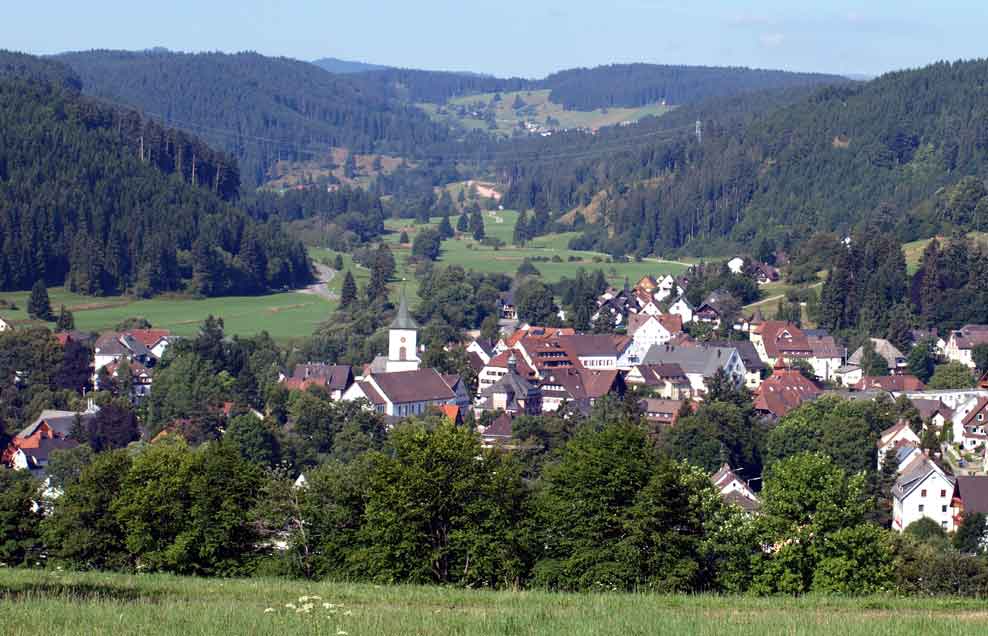 View of Lenzkirch
Route planner:
Please enter your origin below (ZIP code or city and your country), and you get your route to us:

How to find us in Lenzkirch:
If you come from direction Freiburg, drive to the center of Lenzkirch. Branch off left at the church to direction Neustadt. Now you are in the road Schwarzwaldstraße. After 200 meters you find our house on the right side.
If you come from direction Neustadt: When you reach Lenzkirch, you are already in the road Schwarzwaldstraße. About 400 meters after the village-entry-signpost "Lenzkirch" you find our house on the left side.
Here you find a detailed description for printing out.
If you plan to travel by public transportation:
Travel by train to Titisee-Neustadt, leave the train there and travel the last 10 km by bus to Lenzkirch. From the bus stop "Brunnen Lenzkirch" it is just a 100 meter walk to us. You can find timetables in English at www.bahn.com. Just enter there the destination "Brunnen Lenzkich".
---
Activities:
Hiking:
In the midst of the Black Forest there are almost unlimited hiking possibilities. There is a large network of posted hiking trails. Walks at the Feldberg (the highest peak in the Black Forest) or a walk in the Wutachschlucht (a splendid gorge of geological and biological interest) are especially recommended.

Here you find a suggestion for a hike in the Wutach Gorge for printing out.
Lenzkirch lies on the Mittelweg, a long distance path of 230 km length, which crosses the Black Forest from Pforzheim to Waldshut, and also on the 180 km long Querweg Freiburg-Bodensee.
The Lenzkirch Tourist Information offers guided hiking tours. More information can be found in the Lenzkirch event calendar.
Here you can find a hiking map recommendation for our area.
| | | | | |
| --- | --- | --- | --- | --- |
| Mountainbiking | | Hiking at the Feldsee | | Feldberg |
Swimming:
Lenzkirch has a heated open-air swimming-pool and an indoor swimming-pool. The lakes Schluchsee and Titisee are both 10km away. The historic open air swimming pool in Lenzkirch-Kappel was reopened in 1989. It is not heated, but has a lot of flair. In Bad Dürrheim (40km) you can visit the hot springs swimming pool Solemar.


Wutachschlucht
Winter sports:
There are cross-country skiing tracks and a ski elevator in Lenzkirch. The ski center at the Feldberg mountain with 28 lifts und 50 km of pistes is 15 km away. In the village of Titisee-Neustadt are skating-rinks.
| | | | | |
| --- | --- | --- | --- | --- |
| Ski elevator Seebuck | | Ski Center Feldberg | | Sliding |
Enjoy our Specialities:
Enjoy the black forests specialities in the Lenzkirch restaurants!
Typically for the Black Forest are game dishes with mushrooms, liver sausages, black forests ham and bacon. This tastes very good with fresh wood-fired bread.
If you have a sweet tooth you will not be able to resist the Black Forest cake, in which the kirsch is not too sparsely used.
Here you can find a Black Forest cake recipe.

| | | | | |
| --- | --- | --- | --- | --- |
| Black Forest ham | | Kirsch | | Black Forest cake |
Day trips:
At the nearby lake Titisee you can stroll through the souvenir shops or make a boat trip on the lake (10km).
In the Game park in Löffingen you find not only local wild animals, but also a large children playground (20km).

Besides the famous Black Forest cuckoo clocks the German Clock Museum in Furtwangen shows a wide variety of historic clocks (35km).

The City of Freiburg is ideal for a shopping tour and has a wonderful gothic style cathedral (40km).

In Triberg you find the highest waterfalls of Germany and you can visit the worth seeing Black Forest Museum (50km).

The Rhine cascades in Schaffhausen are the biggest waterfalls in Europe (Switzerland 60km).

The Black Forest Open Air Museum Vogtsbauernhof in Gutach lets you come into close contact with 400 years of Black Forest history (60km).

You can connect a visit to the Floral Isle Mainau in Lake Constance with a stroll through the city of Constance (80km).

The Leisure Park Rust (80km) is the biggest pleasure park in Germany.

The Sealife Center Constance shows you fascinating views into the submarine world (90km).

On a trip over the border to France you can visit the medieval town Colmar and the nice little villages at the Alsace Wine Road (France, 90km).
| | | |
| --- | --- | --- |
| Vogstbauernhof | | Europa-Park |
What's on in Lenzkirch:
You find interesting offers in the Lenzkirch event calendar. Choose between guided walks, concerts, lectures or the children program events which meets your interests.
Here you find the Lenzkirch event calendar.
For motorcyclist:
The Blackforest with its winding roads, romantic river valleys and heights with nice views is ideal for motorcyclist. Bikers find here links with suggestions for motor bike tours.
Lenzkirch clocks
Lenzkirch had a significant clock production until the begin of the last century. More than 200 different clock types were exported all over the world. Some of this sought-after clocks are displayed in the small museum in the Lenzkirch tourist information. More information about the history of the Lenzkirch clock production can be found here.
New: Free use of buses and trains:
With the new Konus-Guestcard public buses and trains (except IC- and ICE-trains) can be used for free in the whole Middle- and South Black Forest area. This service is included in the spa tax without extra costs.
The Black Forest Card "SchwarzwaldCard":
The SchwarzwaldCard is the admission ticket for more than 100 attractions all over the Black Forest.
---
Photos:
Here you find photos of the houses.


---
Prices:
Double Room

20 square meter, radio, satellite-TV in room, wireless DSL, balkony, cot, suitable for disabled persons, shower, wc, hairdryer, breakfast included

Price for one person per night

39,00 €

Price for two persons per night

50,00 €
Apartment

40 square meter, ground floor, wireless DSL, radio, Sat-TV, linen and towels provided, roll delivery and breakfast posssible, living room with kitchenette, fridge,shower, wc, hairdryer

Price for one person per night

35,00 €

Price for two persons per night

42,00 €

Price for three persons per night

48,00 €

Price for four persons per night

53,00 €

Brakfast per person per night

6,00 €

Additional charge for stays up to three nights per person and per night 4,00 €
Additional charge for dog per night 4,00 €
We have reduced prices for children.

Spa tax is not included in the prices above. Spa tax per person and per night is 2,20 € for persons aged 16 or older, and 1,00 € for children between 6 and 15.
The spa tax includes free use of buses and most trains in our area.
---
Contact:
Please send your information request in German to:
Irmgard Reger
Schwarzwaldstraße 9a
79853 Lenzkirch
Germany

Telephone: +49(0)7653 540
Fax: +49(0)7653 540
Homepage: www.hausreger.de

To avoid misunderstandings, please tell us in your email the desired days of arrival and departure.
Or you can use our information request form
We are looking forward to hearing from you!
---
Printer version:
Here you find some information about how to find us and about nearby activity possibilities. You can print this out and take it with you on your journey.